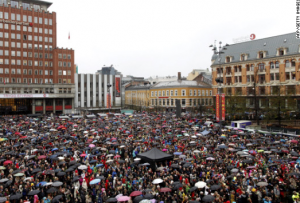 Norwegians raised their voices in unison on Thursday to get under the skin of admitted mass killer Anders Behring Breivik.
An estimated 40,000 people turned out in central Oslo's Youngstorget square to sing "Children of the Rainbow," a Norwegian version of "My Rainbow Race," written by American folk singer Pete Seeger. During his trial for the killings of 77 people last summer, Breivik cited the song as an example of Marxist influence on Norwegian culture. The Norwegian version of the song describes a "World where – every sister and every brother – shall live together – like small children of the rainbow," according to a report in the Norway Post.
Breivik, whose trial in Oslo City Court began last week, boasts of being an ultranationalist who killed his victims to fight multiculturalism in Norway.
The idea for Thursday's singing statement came from two women, Christine Bar and Lili Hjonnevag, who became upset with Breivik's derision of the song and posted a call on social media for others to join them in singing it on the square, Views and News reported. They expected a few dozen people, the report said. But by Tuesday, 4,000 people had accepted their Facebook invitation – and then 10 times that many turned up Thursday.
Culture ministers from Sweden, Denmark, the Faroe Islands and Iceland joined in the song, the Norway Post reported. Lillebjorn Nilsen, who wrote the Norwegian version of the Seeger song, led the crowd in singing both the Norwegian and English versions, according to the News and Views report.
Do you think this gathering had an effect on Breivik? Share your thoughts with us!
Source & Image: CNN