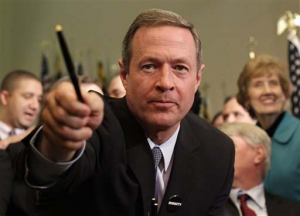 Maryland became the eighth U.S. state to allow same-sex marriage Thursday as Gov. Martin O'Malley signed legislation he said secures the "human dignity" of all residents, including gay and lesbian couples.
Six states and the District of Columbia already issue same-sex marriage licenses — Connecticut, Iowa, Massachusetts, New Hampshire, New York and Vermont. Five states — Delaware, Hawaii, Illinois, New Jersey and Rhode Island — allow civil unions that provide rights similar to marriage.
The Maryland House of Delegates approved the measure O'Malley signed Thursday less than two weeks after Washington state legislators voted to legalize same-sex marriage. That measure will take effect in the summer if it survives a likely court challenge. New Jersey lawmakers approved same-sex marriage this month, but Gov. Chris Christie vetoed the legislation. He has said voters should decide the issue in a statewide referendum.
Voters in Minnesota and North Carolina, meanwhile, will consider proposals in November to ban gay marriage in those states. New Hampshire lawmakers may also consider a repeal of its same-sex marriage law, according to the National Organization for Marriage, which opposes same-sex marriage. Lawsuits seeking to expand civil unions or turn back laws banning same-sex marriages are working through the courts in at least 12 states, including Hawaii, Minnesota and California, the organization said.
Same-sex marriage became a national issue in 1993, after the Hawaii Supreme Court ruled that a ban on such unions violated the state constitution.
Source: CNN
Image: News Observer