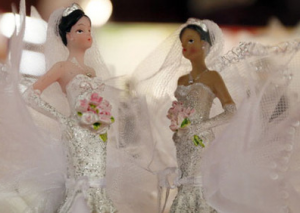 A federal appeals court in New York became the nation's second to strike down the Defense of Marriage Act, finding that the Clinton-era law's denial of federal benefits to married same-sex couples is unconstitutional. The divisive act, which was passed in 1996, bars federal recognition of such marriages and says other states cannot be forced to recognize them.
'Benefit of spousal deductions'
The 2nd U.S. Circuit Court of Appeals determined Thursday that the federal law violates the Constitution's equal protection clause, ruling in favor of widow Edith Windsor, an 83-year-old lesbian who sued the federal government for charging her more than $363,000 in estate taxes after being denied the benefit of spousal deductions.
The court upheld a lower court's decision in a 2-1 majority ruling and determined that America's gay population "has suffered a history of discrimination" similar to that faced by women in years past. The case centered on the money Windsor wanted back, but it raised the more looming question of whether the federal government can continue to ignore a state's recognition of her marriage and financially penalize her as a result.
'Nonissue'
In February, the Obama administration ordered the Justice Department to stop defending the constitutionality of the law, though a GOP-backed group has since taken up the issue in courts across the country. Massachusetts, Connecticut, Iowa, Vermont, New Hampshire, New York and the District of Columbia issue marriage licenses to same-sex couples. Maryland, Washington, Maine and Minnesota are voting on the issue in November referendums. Five states — Delaware, Hawaii, Illinois, New Jersey and Rhode Island — allow civil unions that provide rights similar to marriage.
For her part, Windsor said she wants Thursday's decision to be "part of the beginning of the end" so that married homosexual couples someday will be viewed the same as heterosexual ones in the government's eyes. And she wants the entire issue of a person's sexual orientation to soon become a nonissue when it comes to marriage in American society.
Are you in favor if the Defense of Marriage Act? Feel free to share your thoughts regarding this issue!
Source: CNN
Image: Mother Nature Network