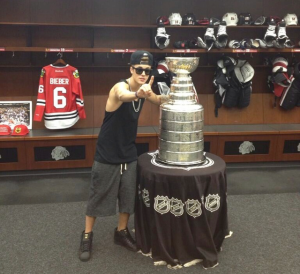 Justin Bieber touches the Stanley Cup, North America explodes and the remaining survivors band together to fend off Belieber zombies in the resulting nuclear winter.
'We're No. 1′
According to Sam Laird of Mashable, Blackhawks marketing director Pete Hassen was the first to send the image of Bieber and the Cup spending quality time. As you can see, Bieber shed his Los Angeles Kings attire for the gig and gave the world a big, "We're No. 1" hand gesture.
Based on the reaction from some sports fans, he might as well had made it official and went with another finger. Indeed, touching the Cup is usually afforded only to those hockey players who have actually helped their team win the trophy—it's their white whale—but fans appear to be the most outspoken about Bieber's tactic.
'Next generation'
Hassen defended the organization's decision to pose Bieber with the Stanley Cup, saying that the pop star opens doors to the next generation of Blackhawks fans.
"@oc_sports people need to relax. Justin Bieber reaches the same market audience that we will need to be the next Blackhawks fans."
Bieber touching the Cup has happened before, and it will probably happen again. I know it's hard, but fans must steel themselves, gather their families and rebuild. This isn't the end. Some days you're the Bieber, and some days you're the mop bucket.
That bad, huh? And how about you — what is your reaction regarding Justin Bieber touching the Stanley Cup? Sound off in the comment box below!
Source: Dan Carson | Bleacher Report
Image: Deadspin