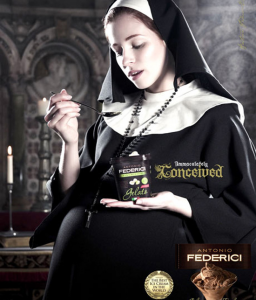 An ice cream company banned from using an advert displaying a pregnant nun has vowed to position similar posters in London in time for the Pope's visit.
Antonio Federici's advert showed a pregnant nun eating ice cream in a church, together with the strap line "immaculately conceived". The Advertising Standards Authority has ordered it to be discontinued, saying it mocked Roman Catholic beliefs. Antonio Federici says it will now put up new posters near Westminster Abbey. Pope Benedict XVI will visit Westminster Abbey on Friday, before holding Mass at Westminster Cathedral on Saturday.
Antonio Federici, a UK-based company, has yet to reveal what image will be portrayed in the new advert, saying only that it would be "a continuation of the theme". A spokeswoman for the company said the new image intended to "defy" the ban from the Advertising Standards Authority (ASA).
Defending the banned nun advert, Antonio Federici said the idea of "conception" represented the development of their ice cream. It added that the use of religious imagery represented its strong feeling towards its product. The firm said it also wished to "comment on and question, using satire and gentle humour, the relevance and hypocrisy of religion and the attitudes of the church to social issues". The banned advert was featured in editions of The Lady and Grazia magazines.
The ASA said in its ruling: "We considered the use of a nun pregnant through immaculate conception was likely to be seen as a distortion and mockery of the beliefs of Roman Catholics. The ASA banned another advert for Antonio Federici in July 2009 that showed a priest and a nun appearing as if they were about to kiss.
In your opinion, did Antonio Federici go beyond the limits in the satirical ice cream ad? Tell us what you think of the "pregnant nun" concept!
Source: BBC News
Image: Disinformation