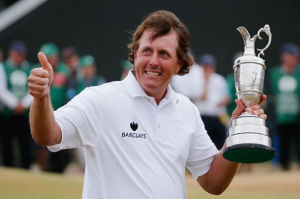 After one of the wildest British Open tournaments in years, it was American Phil Mickelson who held off Lee Westwood with a score of three-under par to win the 2013 championship and the world-renowned Claret Jug.
'3 different majors'
With the win today, Phil Mickelson becomes the 4th player since 1980 to win 3 different majors (Jack Nicklaus, Tom Watson and Tiger Woods).

— ESPN Stats & Info (@ESPNStatsInfo) July 21, 2013
Phil Mickelson (age 43) is the oldest player to win a major since Ben Crenshaw at the 1995 Masters (also 43).

— ESPN Stats & Info (@ESPNStatsInfo) July 21, 2013
Westwood finished tied for third at one-over par, and Tiger Woods finished tied for sixth at two-over par. Still, Woods stays atop Mickelson in the world rankings, according to Golf Channel's Jason Sobel.
Mickelson had the perfect Sunday, tying the tournament's best single-round score by tallying a five-under 66 for his fourth and final round, cementing his place as one of the greatest of all time with his first career win at the Open Championship. After making his final shot on the 18th hole, the veteran embraced his family, per Golf Channel's Matt Ginella.
'Back-to-back'
The American star also became the first golfer to ever win the Scottish Open and British Open back-to-back, per Golf Channel's Jason Sobel.  Mickelson scored a 69, 74 and 72 over his first three rounds, respectively, to put himself in a position to succeed, and the final-round 66 sealed his victory at the British Open after an exciting tournament.
The next major on the schedule for the 2013 British Open champion will be the PGA Championship from Oak Hill Country Club in Rochester, N.Y. on August 8.
Did you expect Phil Mickelson to win the 2013 British Open? And what about Tiger Woods?
Source: Donald Wood | Bleacher Report
Image: Time Sports