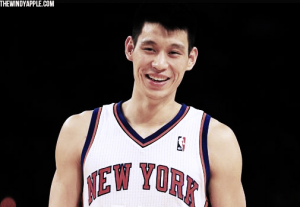 Jeremy Lin has agreed to sign a four-year, $28.8 million offer sheet with the Houston Rockets, league sources told Yahoo! Sports.
The New York Knicks have vowed to match any offer Lin receives to keep him. The earliest Lin can officially sign the offer sheet is July 11. The Knicks would have three days to match or let him join the Rockets. Houston's four-year offer to Jeremy Lin includes a team option in the fourth year. He would make $5 million in year one, $5.2 million in year two and $9.3 million in each of years three and four. The back-loaded offer is designed to hit the Knicks hard on the luxury tax.
The Knicks have publicly and privately indicated they plan to match any offer for Lin. Besides Lin's promise as an NBA point guard, his ability to drive revenue for the Knicks – both regionally and internationally – is unprecedented for a player with such a limited body of work. As an Asian American, Lin's popularity in the Far East could significantly benefit from him playing in Houston. The Rockets still have great brand recognition in China because of Yao Ming's career with the franchise.
The Knicks understand that whatever they pay Lin – and whatever ultimate luxury-tax punishment results from going so far over the salary cap – could still be well worth the cost.
Lin averaged 14.6 points and 6.2 assists before his season ended with a knee injury in March. Lin had been in the Rockets' training camp in the preseason, stuck behind Lowry and Dragic. The Rockets cut him before the start of the season. After Lin exploded into global stardom across several weeks with the Knicks, people wondered how teams like the Golden State Warriors and Rockets ever let him go.
If the Knicks offer Jeremy Lin a better deal, do you think he will choose the team over Houston Rockets? In your opinion, under which team would he do better as a player?
Source: Yahoo News
Image: The Windy Apple