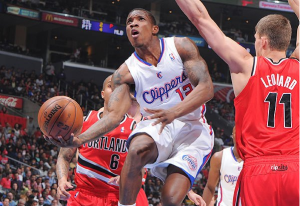 What's the difference between Eric Bledsoe and LeBron James? About seven inches and that's it. Speaking with Matt Petersen of Suns.com, Goran Dragic referred to his new teammate as a miniature LeBron:
'Big strength'
He's a mini-Lebron James. He's got that big strength so when he's in the open court, he's unstoppable. Like a lot of fans know, I like to play fast basketball. When I get the ball to the other guy, he's going to run. We're going to score a lot of points.
More noteworthy than Dragic's offensive ambitions is this "Mini LeBron" moniker Bledsoe goes by. Dragic isn't the first one to coin him a diminutive-sized King. His handle goes back to his Los Angeles Clippers days.
'Unstoppable'
Teammates linked him to The Chosen One on account of his potential. And for what it's worth, ESPN's Kevin Arnovitz wrote that Chris Paul's dad called him "Little Hercules," which is basically the same thing.
Drawing comparison to LeBron is the ultimate of praises, and it's one Bledsoe deserves. Not in the sense that he's the future of the NBA, destined to shatter efficiency records and team up with the next generation's Dwyane Wade. Rather, it attests to his sheer athletic ability, the kind that makes him "unstoppable."
Do you agree that Eric Bledsoe is indeed a mini-LeBron James? Will you be rooting for him then?
Source: Dan Favale | Bleacher Report
Image: Sports Illustrated