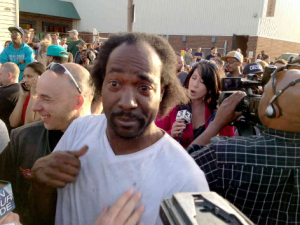 Within hours of becoming a national hero, a viral video star and the top topic on Twitter, Charles Ramsey talked about having trouble getting sleep. Ramsey told CNN's Anderson Cooper on Tuesday, it was about knowing he had lived for a year near the captive women on the city's West Side.
'Broke down the door'
Ramsey recounted Monday night's drama, when he heard a girl scream "like a car had hit a kid." He ran from his living room, clutching a half-eaten McDonald's Big Mac, to the house and helped free a woman identified as Amanda Berry.
"Amanda said, 'I've been trapped in here. He won't let me out. It's me and my baby."
Ramsey and a man named Angel Cordero broke down the door, CNN affiliate WEWS reported in an earlier interview heard around the world. After police arrived, Berry explained there were other women inside.
'Dead giveaway'
Berry was last seen after finishing her shift at a Burger King in Cleveland in 2003 on the eve of her 17th birthday. The other two women are Georgina "Gina" DeJesus, who disappeared at age 14 in 2004, and Michelle Knight, who vanished in August 2002, at age 21, according to police.
Castro "got some big testicles to pull this off, bro," Ramsey told WEWS. "Because we see this dude every day. I mean every day." He added, "I knew something was wrong when a little, pretty white girl ran into a black man's arms. Something is wrong here. Dead giveaway."

In one of the top tweets about Ramsey, comedian Patton Oswalt wrote, "Dear Charles Ramsey: I am not a little pretty white girl, but I totally want to run into your black arms. #hero."
Ramsey said he was raised to help women in distress, said Walsh.
What could have happened if Charles Ramsey had turned a deaf ear to Amanda Berry? Would you have done the same, too?
Source: Josh Levs, Phil Gast and Steve Almasy, CNN
Image: The It List