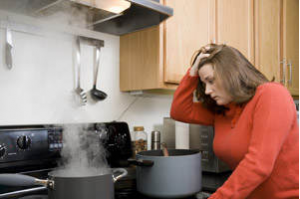 Every cook, being human, errs, bungles, botches, and screws up in the kitchen once in a while but the smart cook aims to prevent such creativity from being necessary. Here are some common cooking mistakes:
1. You don't taste as you go.
Result: The flavors or textures of an otherwise excellent dish are out of balance or unappealing. For most cooks, tasting is automatic, but when it's not, the price can be high. Recipes don't always call for the "right" amount of seasoning. Your palate is the control factor.
2. You don't read the entire recipe before you start cooking.
Result: Flavors are dull, entire steps or ingredients get left out. A wise cook approaches each recipe with a critical eye and reads the recipe well before it's time to cook. Follow the pros' habit of gathering your mise en place―that is, having all the ingredients gathered, prepped, and ready to go before you turn on the heat.
3. You make unwise substitutions in baking.
Result: You wreck the underlying chemistry of the dish. Substitutions are a particular temptation, and challenge, with healthy cooking. When it comes to baking, this is as much science as art.
4. You boil when you should simmer.
Result: A hurried-up dish that's cloudy, tough, or dry. A bubble breaks the surface of the liquid every second or two. More vigorous bubbling than that means you've got a boil going. And the difference between the two can ruin a dish.
5. You overheat chocolate.
Result: Instead of having a smooth, creamy, luxurious consistency, your chocolate is grainy, separated, or scorched. The best way to melt chocolate is to go slowly, heat gently, remove from the heat before it's fully melted, and stir until smooth. It's very easy to ruin chocolate, and there is no road back.
Source: Cooking Light
Image: How to Do Things