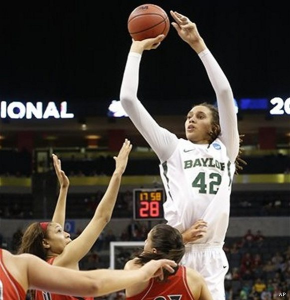 Mark Cuban told reporters before the Dallas Mavericks' game against the Los Angeles Lakers that not only would he give Brittney Griner a chance to be in the NBA, he would draft her if she was the best player still available (via ESPN):
'I'd lean toward yes'
If she is the best on the board, I will take her. I've thought about it. I've thought about it already. Would I do it? Right now, I'd lean toward yes, just to see if she can do it. You never know unless you give somebody a chance, and it's not like the likelihood of any late-50s draft pick has a good chance of making it.
After hearing the news that Cuban would consider picking up Griner in the NBA Draft, or at least giving her a chance to make a splash in a tryout, she gave Cuban the word that she was ready for the challenge.
'Not just among women'
For the record, Dallas holds the 43rd overall pick in the 2013 NBA draft, not one in the late-50s. Regardless, Cuban talked about picking up Griner as if it would be more than just a publicity stunt, though he was obviously aware of the increased attention the Mavericks would get if he were to go through with it.
Griner, the three-time First Team All-American, 2012 AP Player of the Year, three-time Big 12 Player of the Year and four-time Big 12 Defensive Player of the Year, has put together one of the most impressive college careers of any basketball player, not just among women. The only question left is whether or not she would be able to hang with men, even as one of the team's last players off the bench.
So, would it be a good idea to draft Brittney Griner for the NBA? Who says 'Yay' and who says 'Nay'?
Source: Jesse Dorsey, Bleacher Report
Image: Newsmax