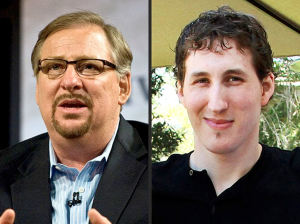 The Southern California church headed by popular evangelical Pastor Rick Warren says his 27-year-old son has committed suicide. Warren's Saddleback Valley Community Church said in a statement that Matthew Warren had struggled with mental illness and deep depression throughout his life.
'Momentary wave of despair'
"Matthew was an incredibly kind, gentle and compassionate young man whose sweet spirit was encouragement and comfort to many," the statement said. "Unfortunately, he also suffered from mental illness resulting in deep depression and suicidal thoughts. Despite the best health care available, this was an illness that was never fully controlled and the emotional pain resulted in his decision to take his life."
Warren, the author of the multimillion-selling book "The Purpose Driven Life," said in an email to church staff that he and his wife had enjoyed a fun Friday evening with their son before Matthew Warren returned home to take his life in "a momentary wave of despair."
'Struggled over the years'
Over the years, Matthew Warren had been treated by America's best doctors, had received counseling and medication and been the recipient of numerous prayers from others, his father said. Still, he struggled over the years. Despite that, he said, his son lived for another decade, during which he often reached out to help others.
The elder Warren founded Saddleback Church in 1980, according to his biography on the church website, and over the years watched it grow to 20,000 members. He gained attention that year with his invocation at President Barack Obama's inauguration that year and comments he made in the aftermath of California's Proposition 8, which overturned gay marriage.
Have you read Pastor Rick Warren's "The Purpose Driven Life"? Do you know someone who is going through the same ordeal that Matthew Warren did?
Source: Fox News
Image: People