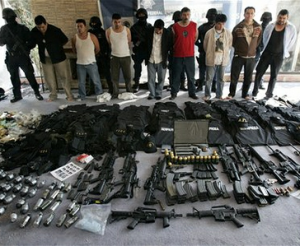 The mass dumping of headless bodies administers a shock to Mexico, long numbed by a death count of nearly 50,000 brought on by president Felipe Calderon's war against the crime cartels. By the time his tenure ends this December, six years after his declaration, that number will likely surpass 60,000.
Of the seven major cartels, some have vanished, but smaller syndicates have scrambled into the vacuum. The two largest—Sinaloa and Los Zetas—remain in power and at each other's throats. A beefed-up federal force has supplanted Mexico's underpaid, poorly treated, corrupt police force, but corruption persists, and journalists are being killed.
The corpses, mostly men, were dumped Sunday on a highway in Cadereyta, Nuevo Leon, about 75 miles outside Texas. The corpses's heads, hands, and feet had been chopped off. First reports estimated there were 49 headless bodies, but the count may actually be closer to 70; the actual number won't be known until the body parts are untangled.
According to Borderland Beat, these deaths resulted from a power struggle between the two largest drug cartels and were reportedly timed for Mother's Day, May 10 in Mexico—and a day when some mothers marched to protest the government's failure to stop the killings. The inhumanity amounts to near genocide. Heads have been thrown into nightclubs and one victim's face was skinned and sewn onto a football. There's been a resurgence in beheadings, thanks to cartel leaders inspired by al-Qaida execution videos.
Suggested solutions range from legalizing drugs—and diminishing the profit motive—to transferring returning soldiers to the border and along smuggling routes, relieving the Mexican military and allowing them to focus inland.
With Mexico facing an upcoming election, what do you think should political candidates include in their platform against crime? Share your opinions with us!
Source: Yahoo News
Image: Virtual Mirage