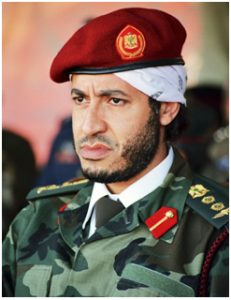 Saadi Gadhafi, a son of the deposed Libyan leader Moammar Gadhafi, secretly tried to travel to Mexico using false documents, Mexico's interior minister said Wednesday. Four people have been implicated in the alleged plot — a Canadian, a Dane and a two Mexicans, said the minister, Alejandro Poire. The arrests of the alleged plotters, which occurred last month, were announced Wednesday. Officials called their efforts "Operation House Guest."
The plan was to provide false documents claiming Mexican nationality for Saadi Gadhafi and his family, and to purchase a number of properties in Mexico for use as safe houses, Poire said. One of the houses was in Bahia de Banderas, a tourist town in western Mexico's Nayarit state, he said.
Mexican intelligence detected the alleged plot on September 6, he said. Intelligence agents followed the trail and discovered that Cynthia Ann Vanier, a Canadian who was in direct contact with the Gadhafi family, was the leader of the ring, Poire said. Vanier was arrested on November 10.
The suspects face charges that include falsifying documents and opening bank accounts under false identities. According to Poire, the Gadhafis would have entered the country under the following aliases: Daniel Bejar Hanan, Amira Sayed Nader, Moah Bejar Sayed and Sofia Bejar Sayed.
Saadi Gadhafi's lawyer, Nick Kaufman, said he spoke with his client Wednesday.
"There is absolutely no truth whatsoever to the allegation that, since fleeing Libya where his life was in grave danger, Saadi Gaddafi has attempted to flout the restrictive measures placed on him by the international community," Kaufman said.
The alleged plot, however, would have been hatched while Saadi Gadhafi was still in Libya, before he fled to Niger.
Source: CNN.com
Image: Dailycaller.com