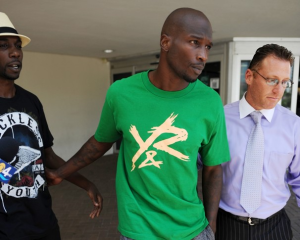 Chad Johnson was once considered one of the NFL's best wide receivers as a member of the Cincinnati Bengals. Now, he will be serving jail time stemming from a domestic violence case.
'Courtoom antics'
Per the NFL on ESPN Twitter feed:
WR Chad Johnson sentenced to 30-day jail term for violating probation in domestic violence case against then-wife Evelyn Lozada.
Johnson and his attorney were attempting to negotiate a plea deal that could have resulted in no jail time, according to the South Florida Sun Sentinel, but Johnson's courtroom antics ultimately did him in.
The former Bengals and New England Patriots receiver reportedly slapped his male attorney on the posterior in court, according to the Sun Sentinel, which angered Judge Kathleen McHugh of Broward County in Ft. Lauderdale, Fla.
'Life is in shambles'
McHugh reportedly said to Johnson:
"Mr. Johnson, I don't know that you're taking this whole thing seriously," McHugh said. "I'm not going to accept these plea negotiations. This isn't a joke."

Johnson tried to explain himself, "I had no intent to make this a joke, because my life is in shambles right now."
Despite Johnson's apology, the judge refused to grant him a reprieve and his plea deal was rejected.
This is yet another blow for Johnson, who has had a rough go of it since being traded from Cincinnati to New England back in 2011. Johnson had just 15 catches for 276 yards in one season with the Patriots before being released. He signed with the Miami Dolphins prior to last season, but he was released the day after he was arrested for allegedly assaulting his ex-wife.
Do you think Chad Johnson will still have the chance to play again in the NFL? Feel free to share your thoughts with us!
Source: Mike Chiari, Bleacher Report
Image: Hip Hop Since 1987