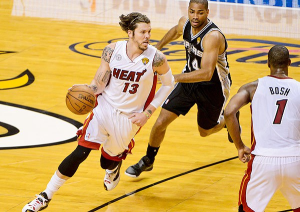 According to Kathy Lynn Gray of the Columbus Dispatch, Mike Miller and other Miami Heat players were among those victimized in a multi-million-dollar real-estate scam. Regina Garcia Cano of the Associated Press reported that the other players were James Jones and Rashard Lewis.
'Questionable documents'
Haider Zafar allegedly conned Miller, Jones and Lewis—along with numerous other Florida residents—out of $8 million by using "questionable documents" to solicit funds for Pakistani real-estate ventures. These revelations were made public after international investment attorney Andrew Fine served as a witness in federal court last Thursday.
'Off-court distractions'
Patwinder Sidhu, one of the main victims in this case, was allegedly taken for more than $10 million during a two-year period. There are 135 charges being pursued against Zafar for his actions, as he allegedly attempted to convince investors that his uncle was the defense minister in Pakistan. If investors purchased land, Zafar said they would be able to sell it back to the government at a higher price.
Hopefully, this issue will be cleared up in time for the start of the 2013-14 campaign, as the Heat are going for a rare three-peat and do not need off-court distractions getting in the way.
Are you a Miami Heat fan? Have you also been a victim of a similar scam? Feel free to share your thoughts and opinions with us!
Source: Alex Kay | Bleacher Report
Image: Black Sports Online