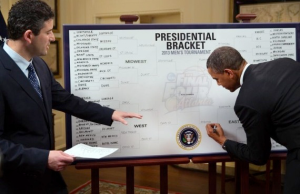 As has become tradition, President Obama selected his bracket in front of ESPN's cameras, accompanied by college basketball analyst Andy Katz.
'Ohio State defeating Wisconsin'
In the Midwest region, the Louisville pick makes sense. However, President Obama has them beating Duke in the Elite Eight. For the most part, the President sticks with chalk in the Midwest. His only notable "upset" is Cincinnati defeating Creighton in the round of 64.
In the West, President Obama has Ohio State defeating Wisconsin to advance to the Final Four. The President isn't so quick to dismiss Gonzaga, advancing them to the Sweet 16. But he is quick to dismiss Kansas State, already predicting the winner of the Boise State versus La Salle play-in game will beat the Wildcats in the round of 64. He also likes Belmont over Arizona, a popular upset pick and one I'm also projecting.
'Indiana winning the national title'
In the South, the President is projecting Florida to beat Michigan to advance to the Final Four. President Obama has two upset picks in the round of 64 on the bottom portion of the bracket, rolling with Minnesota over UCLA—I'm with you, Mr. President—and Oklahoma over San Diego State.
Finally, we go to the East region, where the President has Indiana defeating Miami to reach the Final Four. It's hard to argue with either selection.  However, you could make the argument that Miami deserved to be a No. 1 seed. In fact, the Hurricanes are the first ACC team ever to win the regular-season title and conference tournament and not earn a No. 1 seed.
In the Final Four, President Obama sees Indiana defeating Florida, Louisville defeating Ohio State and Indiana winning the national title.
Do you think President Obama's prediction of the NCAA tournament will come true? Which team are you rooting for?
Source: Timothy Rapp, Bleacher Report
Image: Gamedayr