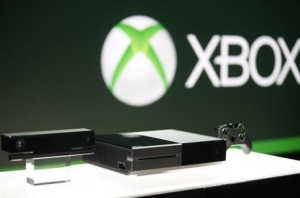 Reacting to "feedback from the Xbox community," Microsoft is appearing to reverse course and change two key components to policies for its new Xbox One video game console.
'Second thoughts'
All disc-based games can be played without ever connecting online, and the 24-hour connection requirement has been dropped, according to an update to a May post concerning questions about the new device, due to be released this fall. Additionally, there will be no limitations to using and sharing games, Don Mattrick, president of the Interactive Entertainment Business division, says in the post. People will be able to share, trade or resell their games in the same way they do for Xbox 360 games.
The changes indicate Microsoft is having second thoughts about some of its future plans with the Xbox One.
The post read, "Update on June 19, 2013: As a result of feedback from the Xbox community, we have changed certain policies for Xbox One reflected in this blog. Some of this information is no longer accurate."
'Restrictions'
The company has been taking a public berating since it announced restrictions to used games and their requirement for an Internet connection. Consumers have been reacting with anger over the policies, but the tipping point may have been when Jimmy Fallon, host of NBC's "Late Night," pointed out that only the PlayStation 4 could freely play used games, which created more confusion.
The flogging became worse when Sony took to the stage at this year's Electronic Entertainment Expo (E3) trade show and pointedly did not include such restrictions for the new PlayStation 4. A YouTube video produced by Sony made fun of the used-game restriction by showing how people could share games on the PlayStation 4 — by just handing them to another person.
Did Microsoft make a good decision when they reversed their Xbox One sharing policies? Which game console do you prefer — Xbox One or PlayStation 4?
Source: Larry Frum | CNN