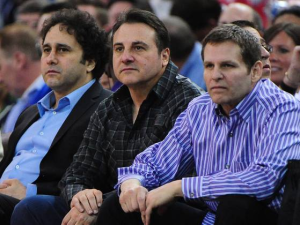 The Maloof family is finalizing an agreement to sell the Sacramento Kings to a group that hopes to move the franchise to Seattle for the 2013-14 season, league sources told Yahoo! Sports.
'First and goal at the 1′
The deal will sell the Kings for approximately $500 million to a group led by hedge-fund manager Chris Hansen and Microsoft chairman Steve Ballmer. The group is seeking to relocate the franchise to Seattle's KeyArena for the 2013-14 season. The Seattle group's plans, with support of the NBA, is to play two seasons in Key Arena before moving into a new Seattle arena, sources said.
No agreement has been signed, but one source with knowledge of the talks described the deal as "first and goal at the 1." Sources said it will take "some time" to get a formal agreement in place. The Maloofs' history of changing course late in negotiations still has some uneasy about getting the sale completed. The Maloofs previously neared a deal with Sacramento leaders to help finance a new arena in the city before backing out.
'The Sonics'
The Maloofs are expected to keep an extremely small percentage of the team, but will have no real input or say in the franchise, sources said. Once the sale is completed, the Seattle-based group will have until March to file for relocation. NBA commissioner David Stern has been a big proponent of the Hansen-Ballmer group, and league officials will work diligently to help the franchise move to Seattle if the sale is finalized, sources said. The Seattle-based group is determined to not have the franchise spend a final lame-duck season in Sacramento.
The prospective Seattle ownership plans are to change the Kings' name and logos back to the original proprietors of the city's NBA history: the Sonics. "Same name and logos," a source working with the group told Y! Sports.
Are you a fan of the Sacramento Kings? Do you think the upcoming relocation will do more good or more harm to the team?
Source: Adrian Wojnarowski, Yahoo Sports
Image: USA Today