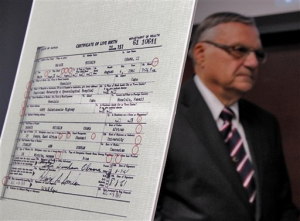 Investigators for an Arizona sheriff's volunteer posse say President Barack Obama's birth certificate is definitely fraudulent.
Members of Maricopa County Sheriff Joe Arpaio's posse said in March that there was probable cause that Obama's long-form birth certificate released by the White House in April 2011 was a computer-generated forgery. Now, Arpaio says investigators are positive it's fraudulent.
So-called "birthers" maintain Obama is ineligible to be president because, they contend, he was born in Kenya. However, Hawaii officials have repeatedly verified Obama's citizenship, and courts have rebuffed lawsuits over the issue. Mike Zullo, the Arizona posse's chief investigator, said numeric codes on parts of the long-form birth certificate indicate those parts weren't filled out, yet those sections asking for the race of Obama's father and his field of work or study were completed.
A civil trial is set to begin Thursday in a lawsuit that accuses Arpaio's office of racially profiling Latinos. The suit filed by a handful of Latinos will serve as a precursor to the U.S. Justice Department's lawsuit that alleges a broader range of civil rights violations against Arpaio's office.
Obama released a copy of his long-form birth certificate in an attempt to quell citizenship questions. His campaign declined to comment on Arpaio's allegations. But Joshua A. Wisch, a special assistant to Hawaii's attorney general, said in a statement, "President Obama was born in Honolulu, and his birth certificate is valid. Regarding the latest allegations from a sheriff in Arizona, they are untrue, misinformed, and misconstrue Hawaii law."
Do you believe that President Obama's long-form birth certificate is indeed fraudulent? OR, is it just another smear campaign against him?
Image: Broadcast Newsroom