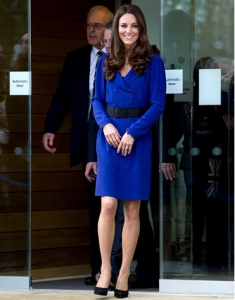 With a big smile, the Duchess of Cambridge made her first public speech as a member of the Royal Family on Monday, officially opening the East Anglia Children's Hospice at the Treehouse center in Ipswich, outside London.
"I am only sorry that William can't be here today. He would love it here," she said about her husband, Prince William, as guests politely laughed. "A view of his – that I share – is that through teamwork, so much can be achieved. What you have all achieved is extraordinary."
Kate, who wrote the speech herself, also said that when she first visited the charity's hospice in Milton, Cambridgeshire, she had "pre-conceived idea as to what to expect. Far from being a clinical depressing place for sick children, it was a home. Most importantly, it was a family home, a happy place of stability, support and care. It was a place of fun."
Wearing an electric blue Reiss belted dress and black heels, Kate was greeted before her speech by about 600 cheering well-wishers. After the speech, she did some planting, adding four spades of soil onto the ground around the base of a tree on the grounds – and, as the Duchess confessed to one guest, "I find doing speeches nerve wrecking."
Meanwhile, William is expected home soon from his six-seven week posting in the Falkland Islands.
Source: People
Image: Yahoo News