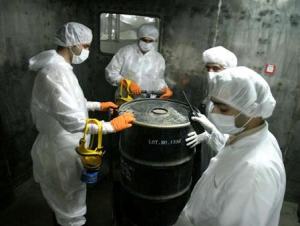 The United Nations' nuclear watchdog agency confirmed Monday that uranium enrichment has begun at a nuclear facility in northern Iran. On Sunday, a fundamentalist Iranian newspaper with ties to the nation's supreme leader said the enrichment had begun at the plant, which is "immune to any military attack."
"Based on reports we received yesterday, Iran has begun uranium enrichment at the Fordo facility at the height of the threats by foreign enemies," the semi-official Kayhan newspaper said.
"The IAEA can confirm that Iran has started the production of uranium enriched up to 20%" at Fordo, said International Atomic Energy Agency spokeswoman Gill Tudor. "All nuclear material in the facility remains under the agency's containment and surveillance."
The Fordo nuclear enrichment plant is in the mountains of Qom province, where Iran says it has 3,000 centrifuges in operation. Another nuclear facility in Natanz is said to have 8,000 of the machines enriching uranium. Iran says there's a medical purpose behind the nuclear program.
"In order to provide medical assistance to 800,000 cancer patients, Iran needs to enrich uranium up to 20% to be able to feed Tehran's (research) reactor that produces the needed radioisotopes," the paper reported.
Enriched uranium at low concentrations can be used to fuel power plants, but in extremely high concentrations it can be used to produce a nuclear bomb. Uranium enriched to between 3% and 5% is necessary to make fuel for reactors. Weapons-grade uranium is enriched to about 90%. Iran's development of missile and nuclear fuel technology has led to U.N. sanctions and accusations from Washington that the clerical regime is trying to develop nuclear weapons.
Source: CNN
Image: WINA News Radio