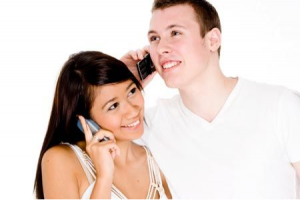 A study of mobile phone calls suggests that women call their spouse more than any other person.
The study has been published in the journal Scientific Reports. It also shows that men call their spouse most often for the first seven years of their relationship. They then shift their focus to other friends. According to the study's co-author, Professor Robin Dunbar of Oxford University, UK, the investigation shows that pair-bonding is much more important to women than men.
"It's the first really strong evidence that romantic relationships are driven by women," he told BBC News. "It's they who make the decision and once they have made their mind up, they just go for the poor bloke until he keels over and gives in!"
Prof Dunbar also claims that the findings suggest that human societies are moving away from a patriarchy back to a matriarchy. This kind of anthropological study is normally very difficult to do because it is hard for researchers to get such a big picture of people's lives. But by looking at an at an extremely large mobile phone database, they were able to track these changes extremely accurately.
The researchers say that a woman's social world is intensely focussed on one individual and will shift as a result of reproductive interests from being the mate to children and grandchildren. According to Prof Dunbar, the data suggests that "at root the important relationships are those between women and not those between men".
"Men's relationships are too casual. They often function at a high level in a political sense, of course; but at the end of the day, the structure of society is driven by women, which is exactly what we see in primates," he explains.
Do you agree that women rather than men create more drive and stability in a relationship? Share with us your views and experiences!
Source: BBC News
Image: The Times of India