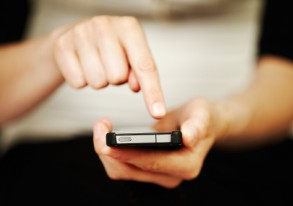 We're talking about how annoying and rude and antisocial we've all become with our smartphones and tablets. These are things you literally could not do before the www went mobile; now we're embarrassing ourselves all over the place. Please stop:
1. Drunk -tweeting, -texting, -Instagramming, etc.
Long gone are the days when the only witnesses to your inebriated ramblings were other bar patrons who also saw you stumble from your bar stool to the ground. Whether you're able to keep it together with spelling and syntax, or your typing skills erode quickly, alcohol and mobile devices don't mix.
2. Missing your favorite band's concert because you're so busy taking crappy photos, letting your phone ring and fiddling with your phone during the set.
Concerts really WERE better back in the day, not necessarily because music really meant something, man, but because the audience actually paid attention and sang along and danced instead of holding their phones in the air and spending 30-plus seconds trying to find the shutter button on the front of the screen.
3. Texting salacious pictures.
The ritual sharing of NC-17 photos used to be a complicated analog affair involving Polaroids and furtive looks. Nowadays, people just drop trou, snap and send.
4. Letting your seething anger leach out into the world at large.
Humans have always done stupid things when they're emotionally riled up. Now, those tantrums and rages and outbursts are shared and cached for the world to see. Take a deep breath and put down the smartphone.
5. Texting while walking.
Rarely does this go well. Whatever's so urgent can probably wait a few minutes. Or you can, you know, actually call the person.
6. Using your phone in the bathroom.
Don't. Just don't.
Are you guilty as charged of these bad smartphone habits? Send us your most embarrassing or hilarious smartphone gaffe!
Source: CNN