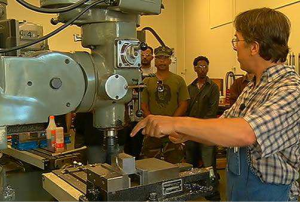 U.S. factories are creating many new jobs. But owners are hard pressed to find skilled American workers to fill them.
There is a "critical shortage of machinists," a common and crucial position in factories, said Rob Akers, vice president at the National Tooling and Machining Association. "Enrollment in this field in technical schools has been down for a long time."
The problem comes at a terrible time. Domestic contract manufacturers — known as "job shops" — are seeing a boom in business. In the case of Win-Tech, a Kennesaw, Ga., manufacturer, orders are coming in fast and furious from its customers in the defense and aerospace industries. But the company's owner Dennis Winslow is more concerned than elated. Winslow's been trying to add 12 more workers to his staff of 42 to meet the increased demand, but he's struggling.
For more than a year, Winslow has been looking for manual machinists, quality control inspectors and machinists trained to use computer-controlled systems. He's advertised the jobs locally as well on popular online recruiting websites, such as Monster.com (MWW). He said he may be forced to hire people who are not fully skilled, and then train them.
As the United States outsourced its manufacturing jobs over the last few decades, the country lost a significant chunk of its manufacturing talent pool, said Mitch Free, CEO of MFG.com, an online directory that matches businesses with domestic manufacturers. Machinists make about $60,000 a year. But with many logging overtime lately, Free said that income can get close to $100,000 a year.
Source: CNN
Image: ABC Local