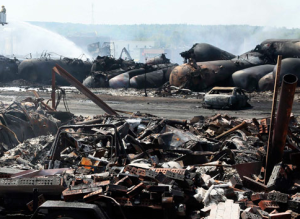 Canadian authorities have found evidence that a criminal act may have led to a train crash in Lac-Megantic, Quebec, that killed at least 15 people, provincial police Capt. Michel Forget said Tuesday.
'Not caused by terrorism'
There have been many questions about the crash and explosion that wiped out a swath of the town 130 miles east of Montreal. As of Tuesday evening, 35 people were still missing, Forget said. Authorities offered no further details about the case but said it was not caused by terrorism.
Firefighters in the nearby town of Nantes put out a separate blaze on the train shortly before it crashed into Lac-Megantic early Saturday. Ed Burkhardt, chief executive officer and president of Rail World, the parent company of the Montreal, Maine & Atlantic Railway, has told media outlets there's evidence the engine powering the brakes was shut down at some point.
'Likely vaporized'
The train began rolling — unbeknownst to dispatchers and rail traffic controllers — about an hour after the fire in Nantes was reported. It picked up speed because the track between Nantes and Lac-Megantic lies on a 1.2% downward slope, which Belkaloul said is relatively steep. Seventy-two tanker cars carrying crude oil jumped the track early Saturday, setting off a huge fireball.
Officials in Lac-Megantic say some victims were likely vaporized by the intense blaze, which burned for 36 hours after the crash. The fire is under control, authorities said Tuesday morning. Of the roughly 2,000 residents evacuated, about 1,200 will be permitted to return home immediately. Another 800 cannot go back yet, the officials said.
What could have been the motive of the person who caused this deadly train crash? Feel free to share your speculations with us!
Source: Eliott C. McLaughlin. Ben Brumfield. Paula Newton and Joe Sterling | CNN
Image: The Guardian