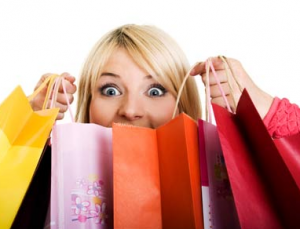 It's one thing to surrender to the occasional impulse buy — but when your purchases shift from impulsive to compulsive, it's the first sign that you might be grappling with a more serious condition: a shopping addiction. Are you or a loved one a shopaholic? Here are five signs of a potential problem.
1. You often purchase things you don't need or didn't plan to buy
You're easily tempted by items that you can do without. You're particularly vulnerable if you've admitted to having an "obsession," like shoes or designer handbags.
2. An argument or frustration sparks an urge to shop
Compulsive shopping is an attempt to fill an emotional void, like loneliness, lack of control, or lack of self-confidence. Shopaholics also have a tendency to suffer from mood disorders, eating disorders, or substance abuse problems.
3. You experience a rush of excitement when you buy
Experts say dopamine, a brain chemical associated with pleasure, is often released in waves as shoppers see a desirable item and consider buying it. This burst of excitement can become addictive.
4. You try to conceal your shopping habits
If you're hiding shopping bags in your daughter's closet or constantly looking over your shoulder for passing co-workers as you shop online, this is a possible sign that you're spending money at the expense of your family, your loved ones, or even your job.
5. You feel anxious on the days you don't shop
It's one thing to feel anxious if you haven't had your morning cup of joe, but if you're feeling on edge because you haven't swiped your debit card all day, be concerned.
If the characteristics above sound a lot like you or someone you know, don't worry just yet. And if you're on the fence about whether you really have a problem, even figuring out why you're always shopping and how you can change could be a big relief – for both your well-being and your budget.
Are you a shopaholic? How do you control your unnecessary buying urges?
Image: 4Tnz