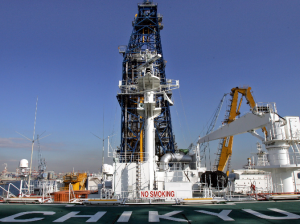 Humans have reached the moon and are planning to return samples from Mars, but when it comes to exploring the land deep beneath our feet, we have only scratched the surface of our planet. This may be about to change with a $1 billion mission to drill 6 km (3.7 miles) beneath the seafloor to reach the Earth's mantle and bring back the first ever fresh samples.
Geologists involved in the project are already comparing it to the Apollo Moon missions in terms of the value of the samples it could yield. However, in order to reach those samples, the team of international scientists must first find a way to grind their way through ultra-hard rocks with 10 km-long (6.2 miles) drill pipes — a technical challenge that one of the project co-leaders Damon Teagle, from the UK's University of Southampton calls, "the most challenging endeavor in the history of Earth science."
Their task will be all the more difficult for being conducted out in the middle of the ocean. It is here that the Earth´s crust is at its thinnest at around 6 km compared to as much as 60 km (37.3 miles) on land. They have already identified three possible locations — all in the Pacific Ocean — where the ocean floor was formed at relatively fast spreading mid-ocean ridges, says Teagle. The hole they will drill will be just 30 cm in width all the way from the ocean floor to inside the mantle — a monumental engineering feat.
To get to the mantle scientists will be relying on a purpose-built Japanese deep-sea drilling vessel called Chikyu, first launched in 2002 and capable of carrying 10 km of drilling pipes.
For Teagle, reaching the Earth's mantle would provide a "legacy of fundamental scientific knowledge" and "inspire" future generations. If Japanese support can be combined with other funding, Teagle says they could start drilling before the end of the decade, making it possible for humans to finally reach the Earth's mantle by the early 2020s.
Are you excited about this new project aimed to reach the earth's mantle? What are your questions about the origins and evolution of the Earth?
Source: CNN
Image: Business Insider