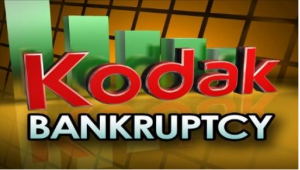 Eastman Kodak, the once mighty icon of the photography industry, filed for Chapter 11 bankruptcy protection Thursday. The company said it has obtained $950 million in financing from Citibank to maintain operations. The company said the credit facility is still subject to court approval. Kodak said it has enough liquidity to continue operating during the bankruptcy process.
Kodak acknowledged, in its Chapter 11 filing, that it had more than 100,000 creditors, with debts totaling $6.75 billion. Kodak company also said that it had assets of $5.1 billion, with properties in Rochester, N.Y., Windsor, Colo. and Weatherford, Okla. Kodak's top creditor is the Bank of New York Mellon in its role as trustee for other bondholders, with claims of more than $650 million. Other creditors include Sony, Nokia, WalMart, Target, Best Buy, Office Max, Disney Studios and CVS.
Kodak has long struggled to evolve its business design from film and compete in the digital age, even though it was an early pioneer of digital photography. For months, bankruptcy rumors have dogged the venerable company, which was founded by George Eastman in 1888.
In addition to licensing its technology, Kodak has been trying to develop its printing and digital camera business. The company also retired its traditional film brand Kodachrome in 2009, after 74 years. Amid its financial demise, Kodak's stock has also suffered considerably. Shares tumbled almost 90% last year to penny stock status.
Kodak was delisted from the S&P 500 in December 2010, and was dropped from the Dow Jones industrial average in 2004.
Source: CNN
Image: Bajan Sun Online