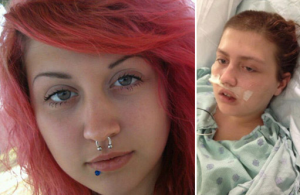 Hospital staff removed Emily Bauer's breathing tube and stopped all medication and nourishment at 1:15 p.m. December 16. Only morphine flowed into her body, as the family waited by her side in her final moments. But the next morning, she was still alive.
'Legal alternative to weed'
Her family said the drug that landed the Cypress, Texas, teenager, then 16, in the ICU two weeks earlier wasn't bought from a dealer or offered to her at a party. It was a form of synthetic weed packaged as "potpourri" that she and friends bought at a gas station.
Best known by the street names "Spice" or "K2," fake weed is an herbal mixture sprayed with chemicals that's meant to create a high similar to smoking marijuana, according to the National Institute on Drug Abuse. Advertised as a "legal" alternative to weed, it's often sold as incense or potpourri and in most states, it's anything but legal. Who wound up in the emergency room the most? Children ages 12 to 17.
Common side effects to smoking synthetic marijuana include bloodshot eyes, disturbed perceptions and a change in mood, said Dr. Melinda Campopiano, a medical officer with the Substance Abuse and Mental Health Services Administration.
'A fight for life'
Three days after pulling life support, the Bauer family marked a day they didn't think they would: Emily's 17th birthday. Each day since has been a fight — a fight to move a finger, a fight to whisper something to her family, a fight for life, according to her big sister. Her stepfather, Tommy Bryant, who has been in Emily's life since he saw her in the delivery room, hopes he can spare other people his family's pain.
Bryant and his family are starting a nonprofit organizationcalled Synthetic Awareness For Emily. Their goal with SAFE is to educate families, as well as teachers and doctors, about the dangers and warning signs of synthetic marijuana use. Bryant said he has filed the paper work and is waiting to hear from the federal government on reviewing their nonprofit application.
Do you know someone who uses synthetic weed? Feel free to share your opinions regarding Emily Bauer's story.
Source: Christina Zdanowicz, CNN
Image: The CW 2