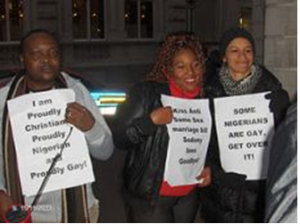 The Nigerian senate has passed a bill banning same-sex marriages, defying a threat from Britain to withhold aid from nations violating gay rights. The bill by Africa's most populous nation calls for a 14-year sentence for anyone convicted of homosexuality. Anyone who aids or "abets" same-sex unions faces 10 years in prison, a provision that could target rights groups. It goes to the nation's House of Representatives for a vote before President Goodluck Jonathan can sign it into law.
The bill passed Tuesday comes nearly a month after British Prime Minister, David Cameron, threatened to withhold aid from nations violating gays' rights, sparking outrage in Africa where leaders interpreted it as "colonial" display of power. Homosexuality is illegal in most African countries based on remnants of sodomy laws introduced during the British colonial era and perpetuated by cultural beliefs. Punishments across the continent range from fines to years in prison.
Soon after his remarks earlier this month, a flurry of African governments released defiant statements accusing him of undermining their sovereignty and culture. Last week, Zimbabwean President Robert Mugabe, known for his anti-gay rhetoric, called the prime minister "satanic" for demanding gay rights.
Cameron's statements also sparked a fiery debate among Africans on social media, where opinions were divided. Others said while denying aid would be extreme; the continent has a long way to go when it comes to human rights.
Sexual violence against lesbians has become so common in South Africa; the nation has coined a new term "corrective rape" to describe it. South Africa — one of the more progressive nations in the continent on the issue — was the first African country to impose a constitutional ban on discrimination based on sexual orientation.