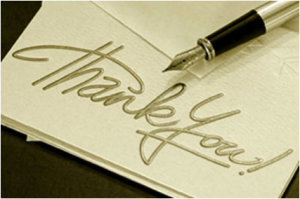 Instead of showing appreciation exclusively during the holidays, some businesses are building it into their day-to-day and reaping business benefits on account of it.
When Kristina Bouweiri started hosting customer appreciation lunches in 2009, she thought she was just helping a friend boost her lagging business. Little did she know that the lunches, which have been held in posh restaurants around Washington, D.C. like The Palm and Capital Grille, would introduce her to almost 900 of her clients, giving her own business a jolt.
"Instead of going after new business, we decided to go back to old clients and thank them, and develop relationships," she says.
As opposed to showing appreciation one day a year — at Thanksgiving or New Year's or in an annual customer appreciation sale — some businesses are building it into their daily and weekly plans and policies. And they are seeing the benefits to this approach: Workers are often more engaged when they feel appreciated and customers are more likely to come back and give referrals.
"Gratitude motivates positive reciprocal behavior," says Randy Raggio, a marketing professor at the University of Richmond. If a customer believes that a business has his best interests at heart, that customer is more inclined to develop a long-term relationship with the business.
A business might show their appreciation by having private sales for their best customers, by offering a few chocolates with the bill, or simply by saying thanks for your business. It needs to be genuine and it's better if it's not open to all. Customer appreciation, Raggio says, usually comes in the form referring a friend, writing a positive review online, or perhaps a willingness to pay more later on.
Gratitude is an effective tool largely because "it is a precursor to develop trust," says Betsy Bugg Holloway, a marketing professor at Samford University in Birmingham, Al. And trust itself is an extremely powerful driver for loyalty, no matter the type of relationship. Just the same, gratitude is only valuable when it comes across as genuine.
"It's not meant to be any magical formula for wealth," says John Kralik, author of A Simple Act of Gratitude. He started writing notes in 2008, as his life and law firm were both suffering. His firm was losing money and had lost its office lease. "I was very embarrassed that I couldn't provide the Christmas bonuses that I had always provided to my employees," he recalls.
So he wrote appreciation notes to his staff, and sent similar notes to clients who paid their bills on time. He wrote to his children, his friends, and to lawyers who sent a client his way. Kralik says one of the lawyers wrote back to him, saying that he had no idea Kralik would want a client like that. "If you like one, I have 10 more," the lawyer wrote.
"As you take care of the paying clients, they pay even faster. They value you," he says. One client's timely check allowed his firm to relocate and pay the new rent. Others brought him more business. "When you're feeling especially crummy, it's a good time to sit down and write about 10 thank-you notes," Kralik says.
Heidi Kallett had been sending out thank-you notes, but she was looking for another way to keep her stationery and gifts stores, The Dandelion Patch, going. So she and her friend, Bouweiri, came up with what they thought would be a one-time client appreciation lunch, and invited administrative assistants at the companies that used the limousine company. The lunches work especially well because assistants are hardly invited to special meals but often watch their bosses head off to a fancy business lunch.
The appreciation lunches have paid off: Last year, revenues at the company increased by 27%, mostly as a result, she says, of the client appreciation lunches, which are held about 10 times a year. Even when she raised rates 10% and added a fuel surcharge in September 2009, "customers were not batting an eyelash. We've created long-term lasting relationships," she says.