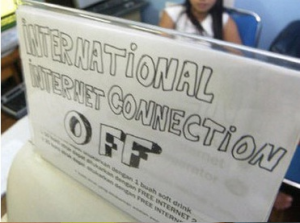 For computer users, a few mouse clicks could mean the difference between staying online and losing Internet connections this summer.
Unknown to most of them, their problem began when international hackers ran an online advertising scam to take control of infected computers around the world. The FBI is encouraging users to visit a website run by its security partner, http://www.dcwg.org , that will inform them whether they're infected and explain how to fix the problem. After July 9, infected users won't be able to connect to the Internet.
Hackers infected a network of probably more than 570,000 computers worldwide. They took advantage of vulnerabilities in the Microsoft Windows operating system to install malicious software on the victim computers. This turned off antivirus updates and changed the way the computers reconcile website addresses behind the scenes on the Internet's domain name system.
The hackers earned profits from advertisements that appeared on websites that victims were tricked into visiting. The scam netted the hackers at least $14 million, according to the FBI. It also made thousands of computers reliant on the rogue servers for their Internet browsing.
The number of victims is hard to pinpoint, but the FBI believes that on the day of the arrests, at least 568,000 unique Internet addresses were using the rogue servers. Five months later, FBI estimates that the number is down to at least 360,000. The U.S. has the most, about 85,000, federal authorities said. Other countries with more than 20,000 each include Italy, India, England and Germany. Smaller numbers are online in Spain, France, Canada, China and Mexico.
What do you think should computer users do to avoid being victimized by opportunistic hackers? Send us your suggestions!
Source: Yahoo News
Image: PCtionary