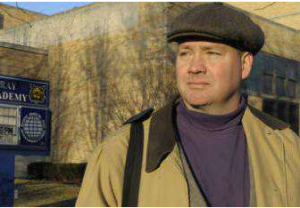 A white teacher is suing for the right to utter a racial epithet during discussion with his students about the perils of offensive vocabulary, after he was suspended for using 'verbally abusive language'.
In a lawsuit fled against Chicago's board of education, Lincoln Brown claims that his use of the word "n***er" during a conversation with students was a constitutionally-protected attempt to teach his class "an important lesson in vocabulary, civility and race relations".
The incident arose after his sixth-grade pupils – aged between 11 and 12 – were left "unsettled and arguing" over a note that one of them had passed around class, containing lyrics to a rap song that included the racially offensive term. Mr Brown consequently started with them "a discussion about how upsetting such language can be, attempted to give his own denunciation of the use of such language and discussed how even such books as Huckleberry Finn were being criticised for the use of the N-word," the lawsuit states.
As the discussion was taking place inside his classroom at the Murray Language Academy, where the majority of students are black, the head teacher, who is black, passed by and overheard. Mr Brown was then suspended for five days for "using verbally abusive language" in front of pupils.
Mr Brown, 48, who teaches writing and social studies, said that he was simply exercising his responsibility to educate children against racism. The school board has dismissed his lawsuit as "without merit" and added in a statement: "The principal determined that the way the teacher used the word was improper."
Source: Digg
Image: Your Black World