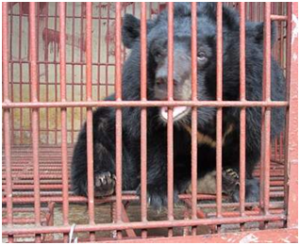 Extracted from the animal with a long needle inserted into the gall bladder on illegal bear farms in Vietnam and China, the endangered Asiatic black bear — also known as Moon Bears because of the crescent of white fur on their chest – is subjected to a slow death from infection and disease in tiny cages that restrict their movements.
"In Vietnam, men in particular mix bear bile with rice wine because they believe it makes them stronger and able to drink more," says Tuan Bendixsen, Vietnam director of Animals Asia, an animal welfare group. "It's been used in traditional medicine for thousands of years and there are claims that it can cure everything from hangovers, liver cirrhosis to cancer."
Last month, the animal welfare group marked a coup in its fight against bear farming. For the first time in Vietnam, a bear farmer acted on conscience, voluntarily surrendering his share of a bear farm — with its 14 bears — without asking for compensation.
In the sanctuary's temporary quarantine cages, where the 14 new arrivals will be slowly rehabilitated over three months before joining the 98 other bears that live permanently at the 30-acre site in Chat Dau Valley, the animals show signs of their recent trauma. In many cases, the bears need immediate medical attention, Officer explains, including the removal of their gall bladders and other organs damaged by the bile extraction process.
How much the illegal trade in bear bile is worth is still difficult to estimate. As many as 7,000 bears are believed to be farmed in neighboring China, with farms also known to exist in Laos, Myanmar and the Republic of Korea.
Source: CNN.com
Image: Intellasia.net