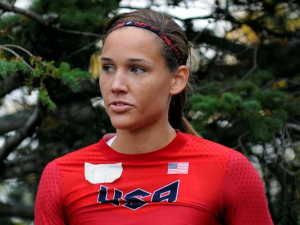 Olympic hurdler Lolo Jones has made her fair share of headlines since crossing over to the world of bobsledding from track and field. She'll likely face criticism after a reported bar fight, although she won't be disciplined by the U.S. Bobsled and Skeleton Federation, according to a report from Mike Singer of CBS Sports:
'No evidence'
USBSF spokeswoman Amanda Bird said team officials found no evidence that Jones had "knocked out" the woman, as had been previously reported. Police also said no charges were filed.

Darrin Steele, the CEO for USBSF, was disappointed about the incident, which took place in the small town where the federation is based, but said he doesn't believe any team rules were violated.

"That could change if new information emerges, but I'm not expecting that to happen at this point," he said to the AP. "It's a good reminder of why our athletes need to avoid putting themselves in situations where things like this can happen."
'Yet to be confirmed'
Kelly Whiteside of USA Today first reported the incident, as well as USA Bobsled and Skeleton Federation's investigation into whether Jones was involved in a bar fight on Friday night in Lake Placid, N.Y. Whiteside is reporting that no charges have been filed by police.
News of the alleged bar fight spread when former Olympic swimmer Amy Van Dyken told the story on her radio show on Monday. According to Van Dyken's account, she heard that Jones had fought the stepdaughter of Bobsled Hall of Famer Tony Carlino, although the alleged altercation has yet to be confirmed by any firsthand parties.
How will this bar fight allegation affect Lolo Jones' sports career? And do you think there's a grain of truth in it?
Source: Mike Chiari | Bleacher Report
Image: USA Today