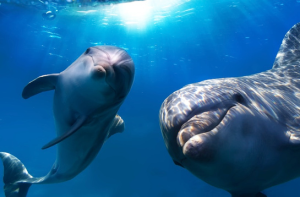 Scientists have found further evidence that dolphins call each other by "name". Research has revealed that the marine mammals use a unique whistle to identify each other.
'Efficient system'
A team from the University of St Andrews in Scotland found that when the animals hear their own call played back to them, they respond. The study is published in the Proceedings of the National Academy of Sciences.
Dr Vincent Janik, from the university's Sea Mammal Research Unit, said: "(Dolphins) live in this three-dimensional environment, offshore without any kind of landmarks and they need to stay together as a group… These animals live in an environment where they need a very efficient system to stay in touch."
'To stick together'
It had been-long suspected that dolphins use distinctive whistles in much the same way that humans use names. Previous research found that these calls were used frequently, and dolphins in the same groups were able to learn and copy the unusual sounds. But this is the first time that the animals response to being addressed by their "name" has been studied.
The team believes the dolphins are acting like humans: when they hear their name, they answer. Dr Janik said this skill probably came about to help the animals to stick together in a group in their vast underwater habitat. Dr Janik said that understanding how this skill evolved in parallel in very different groups of animals could tell us more about how communication developed in humans.
Have you ever seen dolphins up close? Do you find this dolphin fact fascinating?
Source: Rebecca Morelle | BBC News
Image: Gizmodo