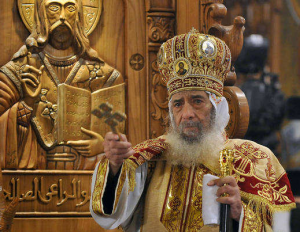 Coptic Pope Shenouda III, the spiritual leader of Egypt's Coptic Christian community for nearly four decades, died Saturday, according to the head of the Egyptian General Coptic Association. He was 88.
The leader of the Coptic Christian community for 38 years, Shenouda was in poor health off and on for many years due to renal failure. He traveled to the United States to undergo medical tests last year.
Markus Askuf, spokesman for the Coptic Church, said Shenouda's body is expected to arrive at the Coptic cathedral in Cairo at noon Sunday. Visitors will be permitted to come and pray there. Shenouda will be buried Tuesday at Emba Bishoy monastery in Wadi Natroun, northwest of Egypt's capital, Askuf said. The area is home to some of the world's earliest Christian monasteries.
The Coptic Orthodox Church is the largest Christian church in the Middle East, according the Coptic Orthodox Church Centre in Stevenage, England. In addition to millions of followers in Egypt, the church has adherents in Europe, Canada, the United States, Kenya, Zimbabwe, Namibia and South Africa, the center says.
When a Coptic pope dies, all 150 bishops of the church's Holy Council appoint an acting patriarch until a vote is conducted for a successor, Doss said. Thousands of bishops, priests and monks are eligible to vote. The most senior bishop usually takes the role of acting patriarch. In this case, that would be Bishop Michael of Asiut. If he declines, Bishop Bakhamious of Behira is next in line, Doss said.
Source: CNN
Image: The Star