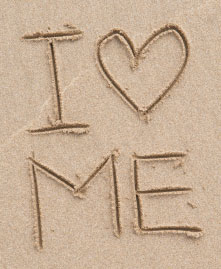 A new analysis of the American Freshman Survey, which has accumulated data for the past 47 years from 9 million young adults, reveals that college students are more likely than ever to call themselves gifted and driven to succeed, even though their test scores and time spent studying are decreasing.
'Incredible self-involvement'
Psychologist Jean Twenge, the lead author of the analysis, is also the author of a study showing that the tendency toward narcissism in students is up 30 percent in the last thirty-odd years.
On Facebook, young people can fool themselves into thinking they have hundreds or thousands of "friends." They can choose to show the world only flattering, sexy or funny photographs of themselves. Using Twitter, young people can pretend they are worth "following," as though they have real-life fans. Using computer games, our sons and daughters can pretend they are Olympians, Formula 1 drivers, rock stars or sharpshooters.  On MTV and other networks, young people can see lives just like theirs portrayed on reality TV shows fueled by such incredible self-involvement and self-love that any of the "real-life" characters should really be in psychotherapy to have any chance at anything like a normal life.
'Greatest epidemic'
All the while, these adolescents, teens and young adults are watching a Congress that can't control its manic, euphoric, narcissistic spending, a president that can't see his way through to applauding genuine and extraordinary achievements in business, a society that blames mass killings on guns, not the psychotic people who wield them, and—here no surprise—a stock market that keeps rising and falling like a roller coaster as bubbles inflate and then, inevitably, burst.
We had better get a plan together to combat this greatest epidemic as it takes shape.  Because it will dwarf the toll of any epidemic we have ever known. And it will be the hardest to defeat. Because, by the time we see the scope and destructiveness of this enemy clearly, we will also realize, as the saying goes, that it is us.
Do you agree that the youth of today's generation are more narcissistic than ever? Share your thoughts and opinions with us!
Source: Dr. Keith Ablow, Fox News
Image: Under 30 CEO