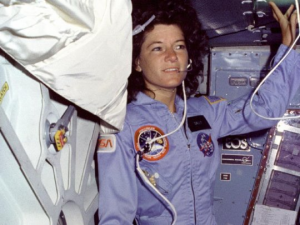 Sally Ride, the first American woman to journey into space, died on Monday after a 17-month battle with pancreatic cancer, her foundation announced. She was 61.
Ride first launched into space in 1983 aboard the Challenger shuttle, taking part in the seventh mission of US space shuttle program. US President Barack Obama called her a "national hero and a powerful role model" who "inspired generations of young girls to reach for the stars."
NASA administrator Charles Bolden said in a statement Ride "literally changed the face of America's space program" and that "the nation has lost one of its finest leaders, teachers, and explorers." The agency's deputy administrator Lori Garver added that the trailblazing astronaut was a "personal and professional role model to me and thousands of women around the world."
Ride, born May 26, 1951, in southern California, earned degrees in physics and English from Stanford University. She applied to be an astronaut at US space agency NASA in 1977, after seeing an ad in her university's student newspaper. It was the first time the space agency had allowed applications from civilians — or from women. Ride was one of 35 people, including just six women, chosen from a pool of 8,000 applicants.
She flew in two space missions, logging nearly 350 hours in space. However, after the Challenger explosion that killed all seven crew members, her third planned mission was grounded in 1986. Ride served on the commission to investigate the accident, and was then assigned to NASA headquarters. She retired from the agency in 1987.
She founded Sally Ride Science in 2001, directed NASA-funded education projects, and also co-authored seven science books for children. Ride is survived by Tam O'Shaughnessy, her partner of 27 years, as well as by her mother, sister, niece and nephew.
How did Sally Ride's legacy inspire you in achieving your dreams? Share your thoughts and opinions about women flying into space.
Image: Global Grind