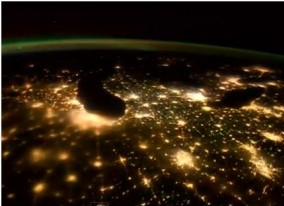 WOW! What a way to start the week! Check out this amazing 4-minute video tour of our wonderful planet courtesy of the nice people at NASA. Click the link to above to see the video.
Set to "Walking in the Air" by Howard Blake, the video is a series of footages taken by the Expedition 30 crew aboard the International Space Station – talk about walking on air! The whole tour video compiles some of NASA's best and most awe-inspiring time-lapse photos from the ISS. The Expedition 30 crew members are now back on earth after they have completed their mission.
Your 4-minute journey will take you high above the clouds, through auroras and around the most spectacular natural light shows (no pyrotechnics in sight!). The tour is only 4 minutes but every second is worth it. Our favorite moments include:
Zipping through the aurora Autralis over the Indian Ocean (min 0:36)
Skimming over the US (min 1 to min 1:30)
Viewing the Comet Lovejoy (min 2:30)
Which of the scenes is the most spectacular for you? Click the link to the video above and feel free to share your opinions with us through the comment box below!
Source: Finer Minds
Image: Funny and Spicy