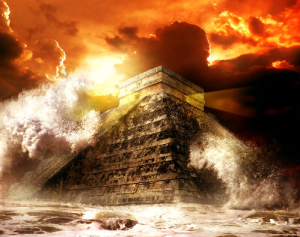 Some believe the world is coming to an end Friday — on 12/21/12 — which is when an important phase on the ancient calendar of the Mayan people terminates. Mayans don't buy it.
'Don't think we're all gonna die'
At least the ones living in the city of Merida, Mexico, don't. Neither does anyone in the Mayan village of Yaxuna. They know the calendar their ancestors left them is about to absolve a key phase — the end of an era and the heralding of a new one — but they don't think we're all gonna die. People in his village will keep living much as they have, preferring hand-built, palm-thatch huts to concrete buildings and baking tortillas on an open flame.
Though 12/21/12 is a somewhat congruent date on the western calendar, the Mayan version enumerates the event in a different way. The ancient people measured time in cycles called "baktuns" of 394 years each, and the winter solstice coming Friday marks the end of the 13th baktun. Some who study the calendar say the date for the end of the period is not Friday, but Sunday.
'Beginning of the 14th baktun'
The Mayan calendar is based on the position of the heavenly bodies — the sun, the moon and the stars — and was meant to tell the Mayan people about agricultural and economic trends, said archeologist Alfredo Barrera. NASA is also weighing in on the matter, with a post on its website declaring that the world will not end on Friday.
In Merida, Mayan priest Valerio Canche conducts an ancient ritual to honor the dead in light of the upcoming end of the 13th baktun. If you're reading this on Thursday, keep in mind that it's already Friday in New Zealand, and it's still on the map. If it's Friday, a look out the window may be reassuring. If it's Saturday, and no major calamity has occurred, then relax and go celebrate the beginning of the 14th baktun with the Mayans.
Do you believe in the Mayan "Doomsday" calendar? What would you do if the world were to end tomorrow?
Source: Ben Brumfield and Nick Parker, CNN
Image: Black Christian News