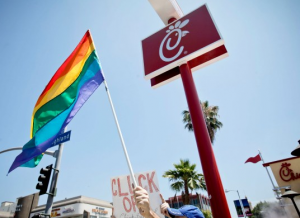 Chick-fil-A, the fast-food chain that sparked a firestorm earlier this year after its president made public comments against same-sex marriage, has agreed to stop funding antigay groups, a Chicago alderman says.
Joe Moreno, the alderman whose opposition of a proposed Chick-fil-A on Chicago's north side helped fuel the controversy, told the Chicago Tribune the company has pledged to include a statement of respect for all sexual orientations in a memo to staffers, and has promised that the WinShape Foundations, its not-for-profit arm, would no longer contribute money to groups that oppose gay marriage. Moreno said he will recommend that Chick-fil-A's construction plans be approved.
Since 2003, the nonprofit has donated millions of dollars to groups that promote "traditional marriage," including Focus on the Family and the National Organization for Marriage. According to the Civil Rights Agenda, a Chicago-based LGBT advocacy group that worked closely with Moreno, Chick-fil-A executives "clarified that they will no longer give to anti-gay organizations."
Earlier this year, Dan Cathy, Chick-fil-A president and chief operating officer, said in a radio interview that "we are inviting God's judgment on our nation when we shake our fist at him and say, 'We know better than you as to what constitutes a marriage.'… I pray God's mercy on our generation that has such a prideful, arrogant attitude to think that we have the audacity to define what marriage is about."
The comments sparked protests and counter-protests at Chick-fil-A stores. The company, founded by Dan's father, Truett Cathy, in 1946, has a history of "unapologetic social conservatism," as the Daily Caller put it. All 1,608 of its stores are closed on Sundays, a day of rest for most Christians.
What is your opinion regarding gay marriage? Do you approve of Chick-fil-A's decision to stop supporting anti-gay groups?
Image: Truth Wins Out