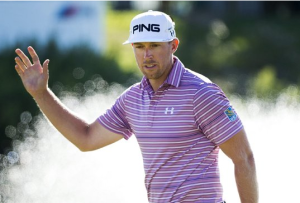 According to National Post columnist Scott Stinson via Twitter on Saturday, golf star Hunter Mahan withdrew from the RBC Canadian Open shortly after his wife went into labor.
'What's important in life'
Hunter Mahan took to Twitter this afternoon to announce the birth of his daughter and thank fans for their support:
"What a whirlwind of a day, but I'm happy to announce the birth of my daughter Zoe Olivia Mahan born at 3:26 am. Thanks for all the support!"

"Both Baby and Mom are doing great. Thanks to all to my sponsors who appreciate what's important in life and all my fans for being Awesome!"
'Leading the tournament'
What makes this story even more unbelievable is the fact that the 31-year-old was leading the tournament by two strokes through two rounds of play, having shot 13-under through the first 36 holes.
There's no doubt Mahan made the right decision to ditch his golf clubs for a set of scrubs. After all, there will be plenty of tournaments for him to contend for in the future. Unlike competing at the RBC Canadian Open or even a major, the birth of a child is a one-time deal.
Do you think Hunter Mahan did the right thing when he left in the middle of the RBC Canadian Open to attend to his family? Would you have done the same if you were in his shoes?
Source: Patrick Clarke | Bleacher Report
Image: Golf Week