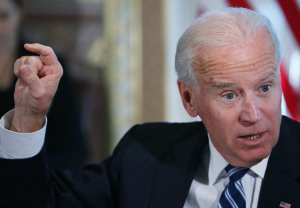 The National Rifle Association emerged from a meeting Thursday with Vice President Biden and accused his gun violence task force of leading an "attack" on the Second Amendment — just hours after Biden gave a glimpse into the gun-control recommendations expected to hit the president's desk in a matter of days.
'Restricting gun rights'
The vice president said earlier that "an emerging set of recommendations" focuses on launching "universal" background checks, restricting high-capacity magazines and allowing federal agencies to do more research on gun violence. He revealed where the task force was headed a day after drawing outrage from Republican lawmakers by saying the administration might use "executive orders" to implement some policies. He said he plans to have the recommendations, which are not yet final, to President Obama by Tuesday.
But the NRA, after sitting down with Biden and other firearms groups Thursday afternoon, blasted the effort as primarily focused on restricting gun rights.
'Failed solutions'
"We were disappointed with how little this meeting had to do with keeping our children safe and how much it had to do with an agenda to attack the Second Amendment," the group said in a written statement. "While claiming that no policy proposals would be 'prejudged,' this Task Force spent most of its time on proposed restrictions on lawful firearms owners — honest, taxpaying, hardworking Americans.

"It is unfortunate that this administration continues to insist on pushing failed solutions to our nation's most pressing problems. We will not allow law-abiding gun owners to be blamed for the acts of criminals and madmen."
Biden planned to round out the day with a meeting Thursday evening with entertainment industry representatives. On Friday, he plans to meet representatives from the video game industry. Still, much of the discussion, and proposals from Democratic members of Congress, continue to center around gun control.
Are you in favor of Biden's proposal for curbing gun violence? Or, like the NRA, do you think it is an "attack on the Second Amendment"?
Source: Associated Press, Fox News
Image: Bloomberg