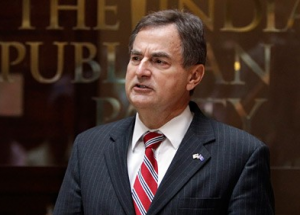 Indiana Republican Senate candidate Richard Mourdock said pregnancies resulting from rape are part of God's plan, tearfully explaining that he only supports abortions when a mother's life is in danger.
'God intended to happen'

"I think even when life begins in that horrible situation of rape, that it is something that God intended to happen," Mourdock said during Tuesday's Senate debate, choking up. Mourdock's opponent, Democratic Rep. Joe Donnelly, opposes abortion except in cases of rape and incest.
After the debate, Mourdock further explained his comment.
"Are you trying to suggest somehow that God preordained rape, no I don't think that," said Mourdock, according to The Associated Press. "Anyone who would suggest that is just sick and twisted. No, that's not even close to what I said."
'Demeaning to women'
Democrats wasted no time linking GOP presidential hopeful Mitt Romney to Mourdock. Earlier this week, Romney personally appeared in a TV ad for the Indiana state treasurer, offering his endorsement.
"Richard Mourdock's rape comments are outrageous and demeaning to women. Unfortunately, they've become part and parcel of the modern Republican Party's platform toward women's health, as Congressional Republicans like Paul Ryan have worked to outlaw all abortions and even narrow the definition of rape," Democratic National Committee Chairwoman Debbie Wasserman Schultz said in a statement released to press.
Missouri Senate candidate Rep. Todd Akin said during an interview in August that women's bodies have ways of preventing pregnancy in cases of what he called "legitimate rape." Akin apologized for the comment, but refused to leave the race despite pressure from his own party.
What can you say about Senator Richard Mourdock's rape comments? Is it just a gaffe blown out of proportion or a candid point of view?
Image: ABC News