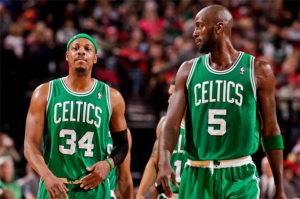 According to Yahoo! Sports' Adrian Wojnarowski and ESPN's Chris Broussard, Kevin Garnett has waived his no-trade clause and the Boston Celtics will send Garnett, Paul Pierce and Jason Terry to the Brooklyn Nets for a package that includes Kris Humphries, Gerald Wallace and future first-round draft picks.  SNYNets states that the blockbuster trade won't be official until July 10.
'Looking to rebuild'
Boston already dealt former head coach Doc Rivers to the Los Angeles Clippers, a move that was finalized this week and noted in a Los Angeles Times piece from Broderick Turner.
Pierce ($15.3 million owed in 2013-14) and Garnett ($24.4 million owed over next two seasons) helped the Celtics win their 17th NBA championship in 2008, but now represent huge salary cap figures for a team looking to rebuild.
'Impact players'
The Nets own the No. 22 pick in the 2013 NBA draft and have been no stranger to trading away draft picks for impact players in the past. When they acquired Williams from the Utah Jazz in 2011, the Nets parted with two future first-round picks, point guard Devin Harris and the No. 3 pick from that year's draft, Derrick Favors.
If a deal was to come to fruition, it would likely include the Nets' No. 22 pick so Boston could maximize this year's draft while giving up two future Hall of Famers.  Pierce (18.6) and Garnett (14.8) were Boston's two leading scorers in the 2012-13 regular season. Garnett also led the team in rebounding (7.8).
Humphries is entering the final year of a two-year contract he signed with the Nets last summer. He will make $12 million during the 2013-14 season. Wallace, on the other hand, is signed through 2016 and is owed over $30 million over the final three years of his deal.
The trade for Kevin Garnett and Paul Pierce — which team do you think will benefit from it the most? Boston Celtics or Brooklyn Nets?
Source: Ethan Grant | Bleacher Report