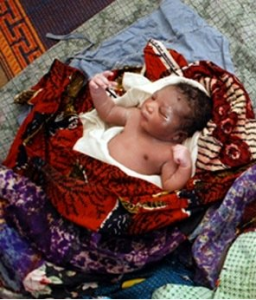 A farm dog in Ghana has attained hero status after spending a night protecting an abandoned newborn human.
Authorities say the dog, along with its two-week-old charge, was found under a bridge in Winkongo (which is near Bolgatanga, the Upper East Regional Capital of Ghana), near the farm where he lives – with the tiny baby snuggled against him.
A search party had been convened to look for the dog, not the baby, when the pooch's worried owner got concerned that her pet hadn't returned home in the evening. Searchers spent most of the night tracking the hound through nearby fields and woods, and came upon the unlikely pair quite some time later; finally locating him under the bridge near the farm he calls home, they were surprised to find the dog curled around a human infant.
The baby himself is in relatively fine fettle after his adventure. His umbilical cord had not been cut, and had gotten infected, but the little one was otherwise unharmed; he's had all his vaccinations, and is currently in the custody of a local health directorate until new, non-bridge arrangements can be made for him.
Why do you think the baby's parents abandoned him just after birth? And can you cite other true-to-life heroic and touching dog stories? Share your thoughts in the comment box below!
Source & Image: Yahoo News