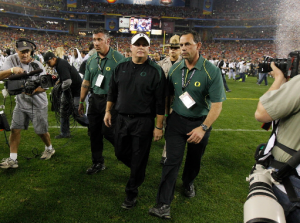 The NCAA has been investigating potential violations regarding Oregon football coaches and their recruiting practices, and the University of Oregon has reportedly admitted to at least one infraction.
'Self-imposed punishment'
According to Adam Jude of The Oregonian, the school has agreed that football coaches committed at least one major recruiting violation between 2008 and 2011. Because of that, Oregon has suggested a self-imposed punishment of two years of probation and the reduction of one scholarship in each of the next three seasons. Per Jude:
The review is ongoing until the NCAA Committee on Infractions issues its final report, the (University of Oregon's) statement read. The integrity of the process and our continued full cooperation with the NCAA prohibits us from publicly discussing the specifics of this matter.
'Major violation'
While Oregon has admitted to one major violation, it is in disagreement with the NCAA regarding another. According to the report, the NCAA believes that Oregon's $25,000 payment to talent scout Willie Lyles constitutes a major violation, while the university considers it to be a secondary violation.
The alleged violations, which took place under head coach Chip Kelly who has since left the school to become the head coach of the Philadelphia Eagles, continue to be investigated and will be addressed by the NCAA's Committee on Infractions at some point this year, according to the report. At that point, it will be determined if Oregon's self-imposed punishment is steep enough.
Do you think Oregon's self-imposed punishment is steep enough? Or should they face more sanctions?
Source: Mike Chiari, Bleacher Report
Image: Oregon Live