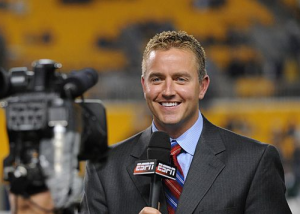 People are lying, or else Johnny Manziel is a moron. That's the situation according to Kirk Herbstreit, who recently spoke out on the Texas A&M quarterback and the current NCAA investigation into his alleged involvement in paid memorabilia signing sessions.
'Dumbest player to ever play football'
Herbstreit fielded questions regarding Manziel's situation during an interview on Tuesday, when the ESPN analyst stated his opinion concerning college players willfully taking money for their signature. Herbstreit's take on the Johnny Football autograph controversy was noted by Jon Solomon of AL.com:
[The memorabilia allegations are] the most far-fetched story I've ever heard of, or [Manziel]'s the dumbest player to ever play college football…It's mind-boggling that he would walk into a room with these memorabilia people that he doesn't even know and be willing to sign things and allegedly be paid.
'Cashing in'
Herbstreit expressed his hope that the allegations would prove false and that the world will get to see Manziel lead the Aggies against Alabama on Sept. 14 at Kyle Field.
The main ideological divide is founded in one question: Should college athletes be allowed to cash in on their names via memorabilia signing or the sale of merchandise?
The answer differs from journalist to journalist. Herbstreit told reporters he would be fine with players receiving small stipends, as well as the creation of a fund for the royalties from jersey sales to be collected after college. He is against players actively marketing and cashing in while in school.
What is your opinion regarding this latest Johnny Manziel controversy? Is it worth fussing over or not?
Source: Dan Carson | Bleacher Report
Image: Grantland