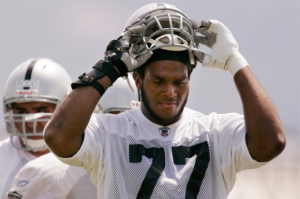 According to the San Mateo Daily Journal, a dispute over soy sauce at Su Hong restaurant in Menlo Park, Calif. last Aug. 21, has landed the former NFL player Kwame Harris in court after he assaulted his ex-boyfriend.
'Felony charges'
Chief deputy district attorney Karen Guidotti told the paper that Harris and the alleged victim had been in a romantic relationship but were not involved at the time of the incident. Harris' attorney Alin Cintean confirmed to the paper the two "were previously involved" but were just friends when the incident occurred.
Harris pleaded not guilty to felony charges of domestic violence causing great bodily injury and assault with force likely to produce great bodily injury, the Daily Journal said. The dispute started when Harris got upset at his friend, Dimitri Geier, for pouring soy sauce on a plate of rice.
'Broken orbital bones'
When the two went to get Geier's belongings from Harris' car, Harris accused Geier of stealing his underwear and tried pulling the man's pants down. Geier tried unsuccessfully to get away, and Harris shook Geier and punched his arms, the paper said. The paper said Geier allegedly struck Harris three times in the face, and then Harris punched Geier several times in the face. Geier was taken to an emergency room, and had surgery to repair broken orbital bones and required a metal plate to fix the damage, the paper said.
The Daily Journal said Geier has filed a civil suit against Harris for assault, battery, false imprisonment, negligence and both intentional and negligent infliction of emotional distress. Harris could also face up to seven years in prison if convicted, Guidotti told the paper.
Do you think Kwame Harris is guilty of Dimitri Geier's accusations against him? Share your thoughts on this latest NFL news!
Source: Frank Schwab, Yahoo Sports
Image: Salon