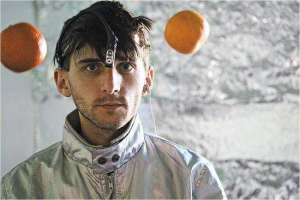 Artist Neil Harbisson is completely colour-blind. Here, he explains how a camera attached to his head allows him to hear colour.
Until I was 11, I didn't know I could only see in shades of grey. I thought I could see colours but that I was confusing them. When I was diagnosed with achromatopsia [a rare vision disorder], it was a bit of a shock but at least we knew what was wrong. Doctors said it was impossible to cure.
When I was 16, I decided to study art. I told my tutor I could only see in black and white, and his first reaction was, "What the hell are you doing here then?" I told him I really wanted to understand what colour was. At university I went to a cybernetics lecture by Adam Montandon, a student from Plymouth University, and asked if we could create something so I could see colour. He came up with a simple device, made up of a webcam, a computer and a pair of headphones and created software that would translate any colour in front of me into a sound.
It has changed the way I perceive art. Now I have created a completely new world where colour and sound are exactly the same thing. I like doing sound portraits – I get close to someone's face, I take down the sound of the hair, the sounds of the skin, eyes and lips, and then I create a specific chord that relates to the face.
There is no end to the evolution of this electronic eye.
Source: BBC News
Image: Gadget Buzz